Cervical cancer is a disease that over 12,000 women will be diagnosed with in 2017 according to the American Cancer Society. The organization also predicts that around 4,000 women will lose their battle with this cancer in the coming year.
Cancer Rates
While this is still a significant number of people, the incidence rates of women being diagnosed—and dying—from cervical cancer has dropped dramatically in the past 40 years. In this time period, the rate of cervical cancer has dropped by more than 50%! This is due in large part to the use of the Pap test which can help detect cervical cancers when they are in their early, and most curable stage.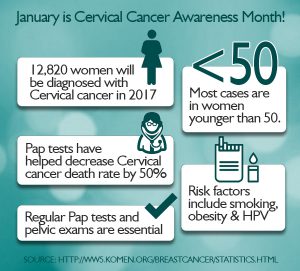 Demographics
It is important for women to get tested for cervical cancer early on because this increases the chances of prevention. Demographically, women are most likely to be diagnosed with cervical cancer between the ages of 20 and 50. While this range is the most common time for cervical cancers that does not mean that women outside of this age range are immune.
Risk Factors
When it comes to cervical cancer, there are multiple factors that increase the risk of incidence. According to the American Cancer Society, doctors believe that a woman must be infected with HPV in order to develop cervical cancer. Other risk factors include smoking, STDs, family history, and economic status. Although cervical cancer is very treatable in the early stages, access to healthcare and paying attention to possible symptoms is vital to the treatment process.
No matter how healthy they may seem, every woman should have routine check-ups to test for diseases like cervical cancer. The most effective tests provide a simple and easy way to detect in early stages which increases survival rates exponentially. Whether it be our daughters, mothers, sisters, or friends, we all have important women in our lives who will benefit greatly from an increased awareness of cervical cancer and how to prevent it.

Christmas is a wonderful time when homes are decorated with festive lights and people of all ages put aside their differences to share in the magic of holiday cheer. Although the holidays are a joyous time, things do not always go as planned for those with chronic illnesses and diseases. While we all have to deal with the pains of winter (cold air, shoveling, slower commute), winter is also a time when many diseases flare up. This can pose some problems for anyone suffering from an illness who is just trying to get in the Christmas spirit. If you or someone you know suffers from a chronic illness or disease, here are a couple things to remember this season.
Be Aware
Although you probably don't need to be told this, as someone with a medical condition it is important that you stay aware. With all of the outdoor activities and rich food that everyone will be enjoying, keep in mind your limitations because you know your condition better than anyone. For those that know someone with an illness, it is also important to empathize with their struggles. It is important not to push too hard and understand that they will simply be unable to do certain things.
Be Understanding
This leads to the next important trait, being understanding. Understanding that your friend or loved one may have some limits can help you both find the best way to enjoy the holidays. Even though a chronic illness may prevent you from participating in certain traditions, that doesn't mean that you have to forgo Christmas entirely. Create some new traditions that fit your lifestyle!
Be Accommodating
The last thing that someone with an illness or disease wants is to feel guilty for being an inconvenience during a holiday party or gathering. It will really mean a lot to plan ahead and prepare so that they can enjoy the festivities just as everyone else. Whether this means catering to certain dietary restrictions, or planning activities that can be enjoyed by all, making sure everyone is involved can help avoid any guilt.
Be Merry
This last one may seem easier said than done, but the best thing you can do this holiday season is be merry. The phrase "laughter is the best medicine" may be scoffed at by those with complicated illnesses, but there really is some truth to it. Sometimes the best way to fight through an illness is to simply focus your attention on something else. While this does not actually cure you, losing yourself in the joy and fun of Christmas can do wonders in helping you cope.
So as we head towards Christmas don't let disease prevent you from celebrating this wonderful holiday with your friends and family. Watch some Christmas movies, trim the tree, enjoy life!