Alzheimer's awareness month is just a few short days away, and in order to help those of you who really work hard to spread awareness, raise money, and participate in fundraising events throughout November, we're offering some sales on some of our favorite Alzheimer's t-shirts, sweatshirts, and other awareness products. Here are our three favorites: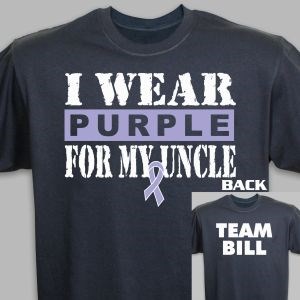 I Wear Purple Awareness T-Shirt
All of these designs will help you spread the word on a cause that is near and dear to the hearts of millions worldwide. In fact, Alzheimer's is the 6th leading cause of death in the United States. Many are affected by this terrible disease. By wearing one of our awareness items, you're showing the world that this disease has impacted you in some way, and others in your life will want to do everything they can to help you raise money to find a cure.
Check our our website to see some of the other causes we support.
Your MyWalkGear Team
Check Out Our Website
Become Our Fan on Facebook
Follow Us on Twitter
Sign Up For Our Mailing List
Follow Our Pins