Alzheimer's Awareness month may be a few months away, but we've been receiving so many questions about our apparel for this important cause. Alzheimer's disease is a tragic illness that affects millions worldwide. It's incredibly difficult for not only those diagnosed, who struggle with severe memory loss and confusion, but also their families, who have to watch their loved ones forget important parts of their lives. For that reason, so many nation and worldwide dedicate so much time to spreading Alzheimer's awareness and participating in walks, fundraisers and other charitable events for this cause.
Even if your Alzheimer's walk is a few months away, there are still several effective ways that you can spread awareness about the disease. One way is to wear personalized cause apparel and accessories showcasing your support and passion for Alzheimer's awareness and research! Since this is one cause that so many are interested in, we thought we'd spotlight a few of our favorite Alzheimer's awareness items.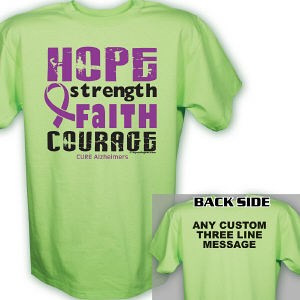 Cure Alzheimer's Awareness T-Shirt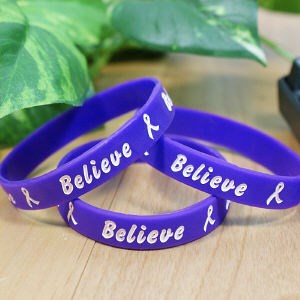 Purple Believe Awareness Bracelet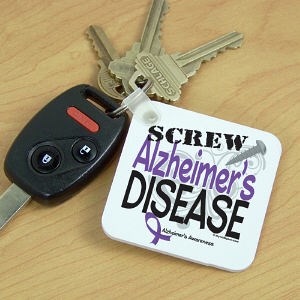 Screw Alzheimer's Disease Key Chain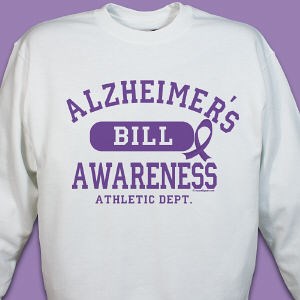 Alzheimer's Awareness Sweatshirt
Embroidered Believe Awareness Purple Hat
This is only a small sampling of all of the Alzheimer's awareness gear that we offer! We've got so many great accessories and apparel items that you can wear for your next walk or carry on the go. Don't underestimate the power of spreading the word this way. Even if people don't stop and ask you about Alzheimer's awareness when they see your sweatshirt, they'll see that you support the cause, and that will stay with them. Next time they hear about the disease, they'll remember how important it is to you.
Check out our website to see some more of our Alzheimer's Awareness t-shirts, sweatshirts, bracelets and more! A percentage of your purchase will go towards the cause of your choice. Also, don't forget to show your support by signing up for a walk in your area. Help us spread the word!
Your MyWalkGear Team
Check Out Our Website
Become Our Fan on Facebook
Follow Us on Twitter
Sign Up For Our Mailing List
Follow Our Pins