Every March serves as Multiple Sclerosis Awareness Month, a time to show your support for everyone whose life is affected by this disease. Multiple Sclerosis is a disease that affects more than 2 million people worldwide. Since physicians in the US are not required to report new diagnoses of MS, the number of those affected is most likely higher.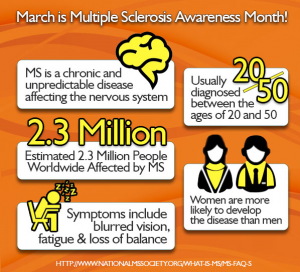 MS is also a very tricky disease to diagnose. While there are many symptoms, these symptoms may not always persist. In addition, there is no clear explanation for how or why MS develops. The onset of MS is unpredictable,
but doctors think that it is a disease in which the immune system incorrectly attacks healthy cells within someone's Central Nervous System. There is also no surefire laboratory test to diagnose the disease, so someone may suffer for years without knowing for sure what condition they have.
The difficulties in diagnosing the disease also makes it very difficult to treat Multiple Sclerosis. Until doctors are able to correctly identify the pathology of MS, a cure is unlikely to be found. While current treatments have seen some success in lessening the symptoms of MS, a full-fledged cure has not yet been discovered.
The mystery that surrounds MS is part of the reason why it is so important to raise awareness of this disease and raise funds for research into a cure. By participating in awareness events such as walks and fundraisers, you can help to keep people informed about the symptoms of MS and it's treatments.
Showing your support for those suffering from MS can also be very helpful as they fight this chronic condition. With so much being unknown about the disease and its prognosis, a diagnosis can feel very scary and isolating. Having a helpful support system in place can bring a sense of positivity that will aid in the fight.


Cervical cancer is a disease that over 12,000 women will be diagnosed with in 2017 according to the American Cancer Society. The organization also predicts that around 4,000 women will lose their battle with this cancer in the coming year.
Cancer Rates
While this is still a significant number of people, the incidence rates of women being diagnosed—and dying—from cervical cancer has dropped dramatically in the past 40 years. In this time period, the rate of cervical cancer has dropped by more than 50%! This is due in large part to the use of the Pap test which can help detect cervical cancers when they are in their early, and most curable stage.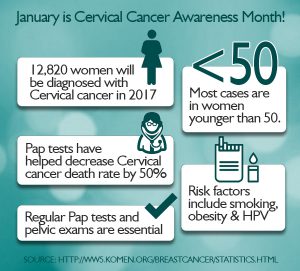 Demographics
It is important for women to get tested for cervical cancer early on because this increases the chances of prevention. Demographically, women are most likely to be diagnosed with cervical cancer between the ages of 20 and 50. While this range is the most common time for cervical cancers that does not mean that women outside of this age range are immune.
Risk Factors
When it comes to cervical cancer, there are multiple factors that increase the risk of incidence. According to the American Cancer Society, doctors believe that a woman must be infected with HPV in order to develop cervical cancer. Other risk factors include smoking, STDs, family history, and economic status. Although cervical cancer is very treatable in the early stages, access to healthcare and paying attention to possible symptoms is vital to the treatment process.
No matter how healthy they may seem, every woman should have routine check-ups to test for diseases like cervical cancer. The most effective tests provide a simple and easy way to detect in early stages which increases survival rates exponentially. Whether it be our daughters, mothers, sisters, or friends, we all have important women in our lives who will benefit greatly from an increased awareness of cervical cancer and how to prevent it.